ScratchNSniff's Protege5 Progress Thread...Lots of Pics...
---
Well...this is a long time coming as I just haven't had the patience to sit down and get this whole thing together and figured out...luckily I have taken a lot of pictures along the way and can somewhat remember what has been done...
I picked up this car in February of 2008 and have been slowly doing work to it...
Hopefully you guys will enjoy looking this over and it will give me a place to go back and update...
Current Mod List
Performance Mods:
Speed3 Custom Exhaust
Injen CAI
Mazdaspeed Protege Front Brake Upgrade
Tein S-Tech Springs
Mazdaspeed Rear Sway Bar
Altered Customs Air Diverter Plate
GT Spec Ladder Bar
GT Spec Front Lower Tie Bar
GT Spec Trunk Cage
Corksport Bronzoil Bushings
Exterior Mods:
Black-Out Tails
Black-Out Turn Signals
Black-Out Side Markers
Black-Out Headlights
Black-Out Emblems
Blacked-Out Rear Valance
Blacked-Out Keyhole Surround
Rear Wiper Delete
Tribute Washer Nozzles
Speed3 Rims w/ Pirelle P-Zero Nero Tires
1989 16" Ronal R9's w/BF Goodrich G-Forces
Carolinamazdas.com Decal
DG CF Mirror Covers
S2000 Antenna
323F Badge
DG CF AutoEx Replica Grill
Familia Badge
Interior Mods:
08 Mazdaspeed3 GT Seats (Front/Rear)
Broadway 290mm Rearview Mirror
Speed3 Dead Pedal
JDM Leather Center Armrest
EDM Single DIN Clock/Cubby
DaveB Guage Rings
Blacked Out Pillars
Blacked Out Headliner
B&M Short Shifter
MOMO E-Brake Boot
MOMO E-Brake Handle
MSP 3.5 Pedals
02 P5 Cupholders
AutoEx CF Shift Knob
Stereo Mods:
Pioneer Premier CD Player
Pioneer 6" GPS/Backup Camera Display
JL Audio Rears
Focal 6v2s Components Front
Alpine PDX-5
Optima Red Top
DIYMA 12" in Custom Box
Custom Built False Floor to interchage audio/trunck cage
Few days after I got it...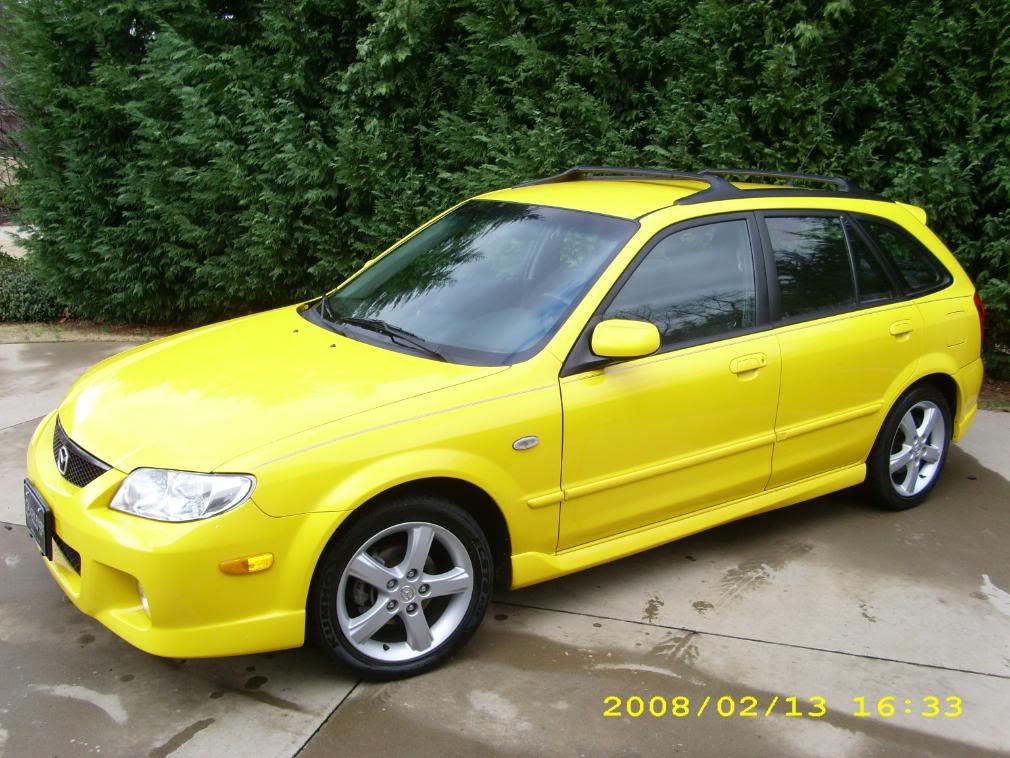 First photoshoot a few days later...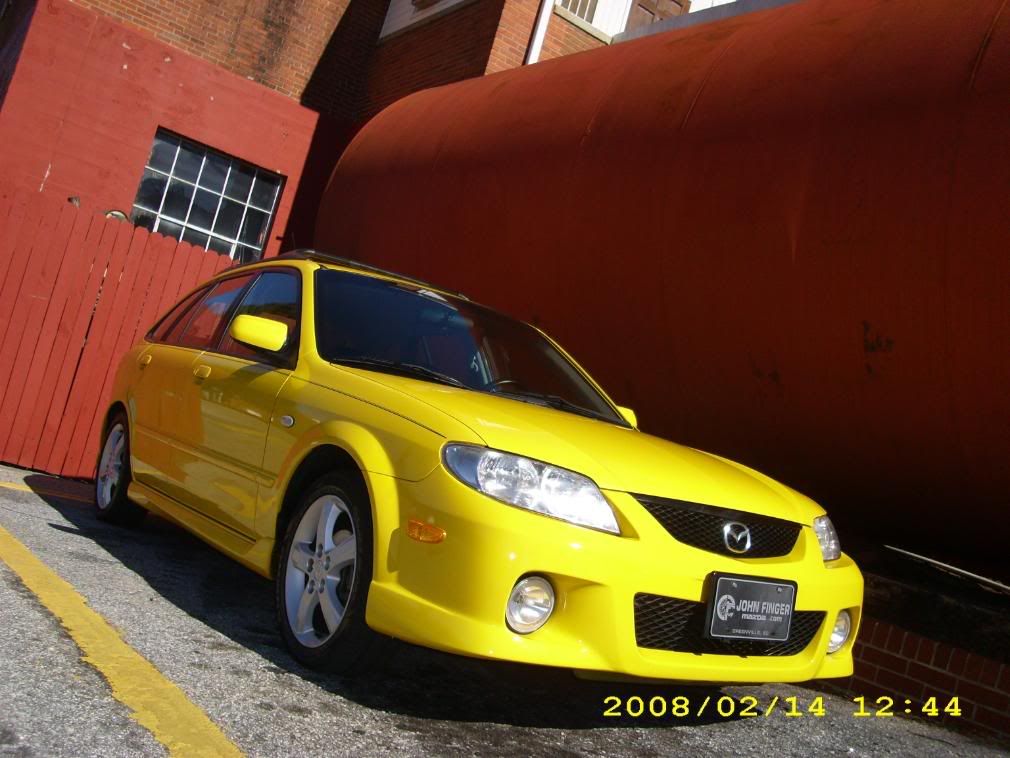 First MOD...Blacked out Rear Valence...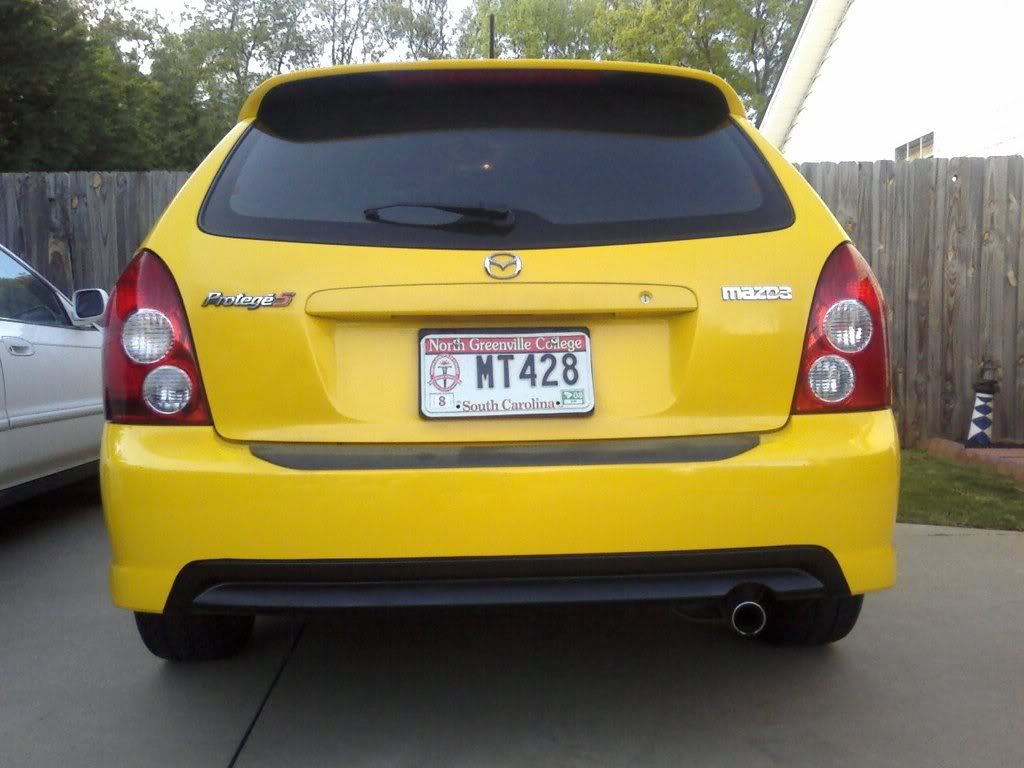 Second MOD...No Smoking...
Decided to get rid of the stock CD Player...
Few more pics with a friend...
Decided to start blacking out...did the tails/side marker lights/fogs/emblems...also went with 5% tint on the windows and 30% on the front...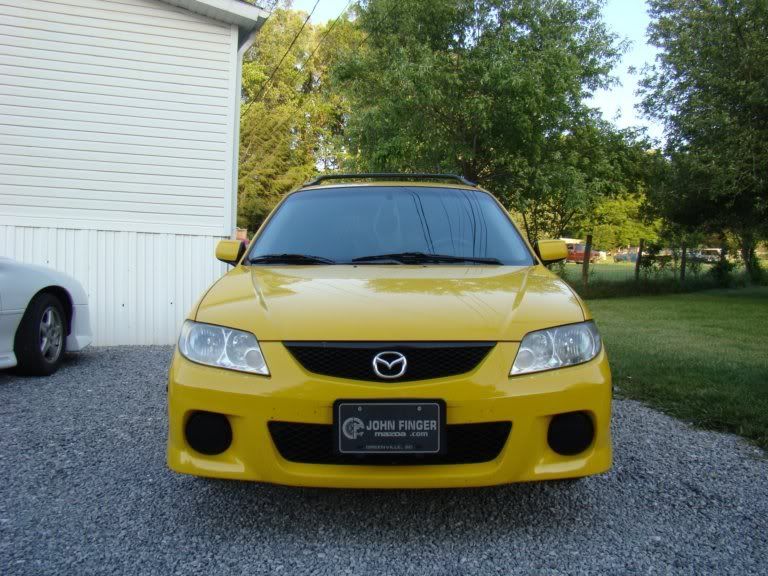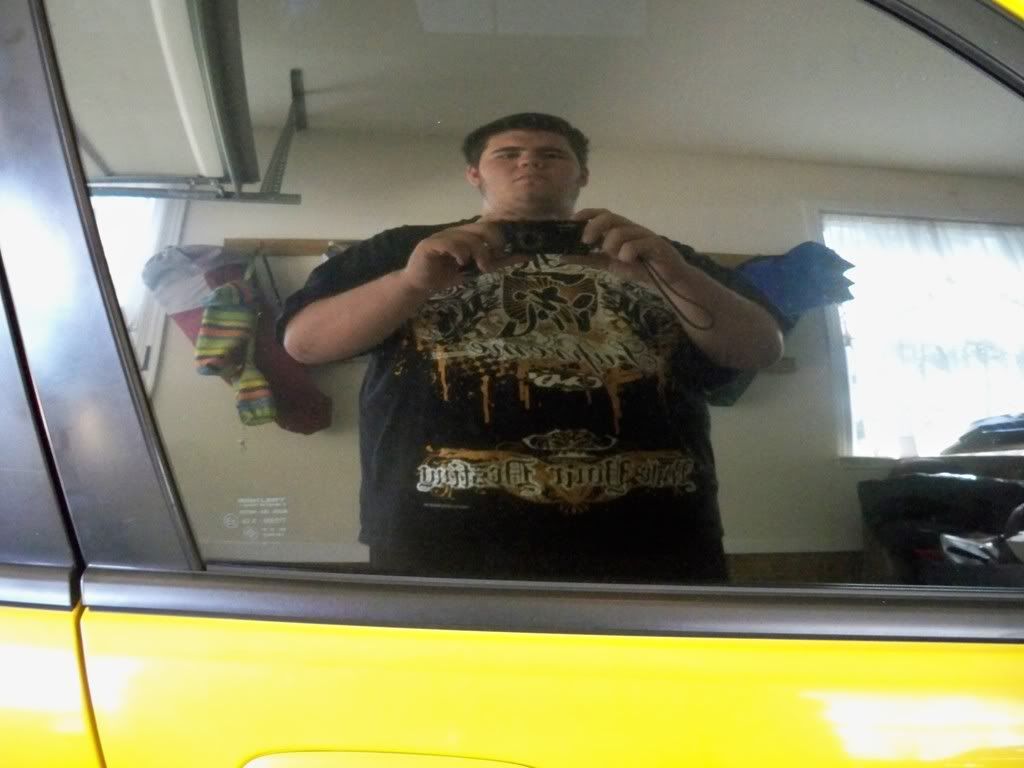 Decided to pick up some audio and decided to go with the JL10W7 along with a Kicker ZX1000.1...also had the Boston Acoustic Components hooked up to a Kicker ZX650.4 amp...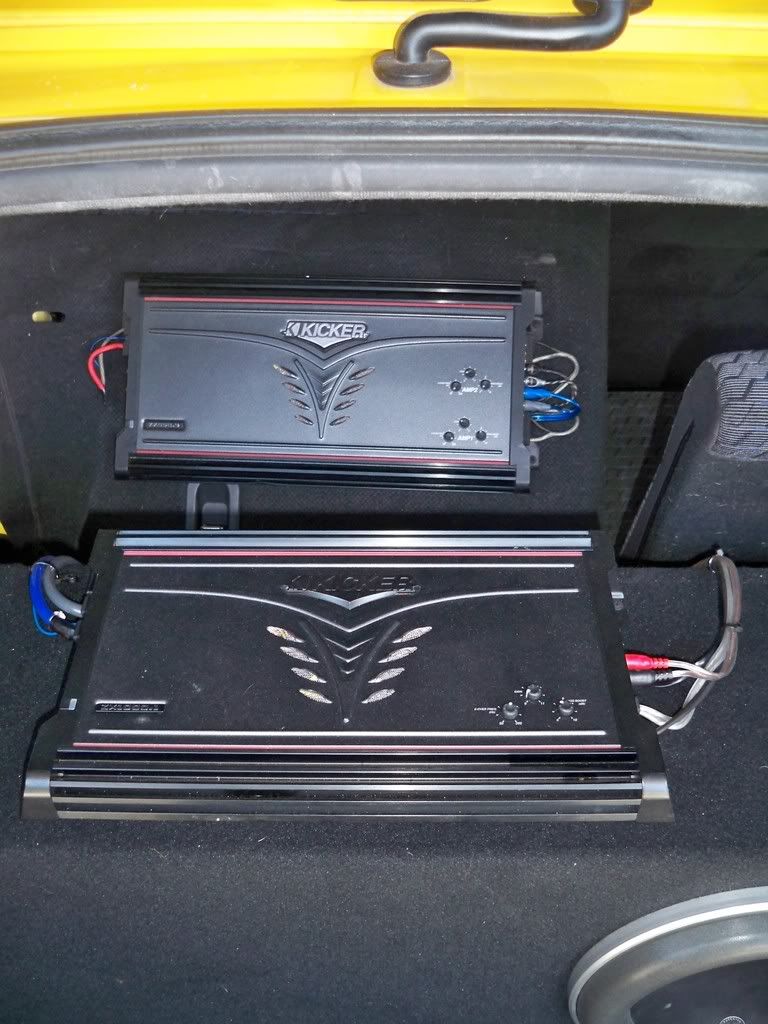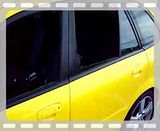 Got tired of the radio pocket so decided to go with the Mazda block off plate...
Decided to pick up a Racing Beat exhaust/MSP Engine Cover/Injen CAI...
Went with an S2000 antenna/Mazda3 5-Spokes/Blacked out headlights/DG CF Mirror Covers/Foglight Deletes/Tribute Nozzles...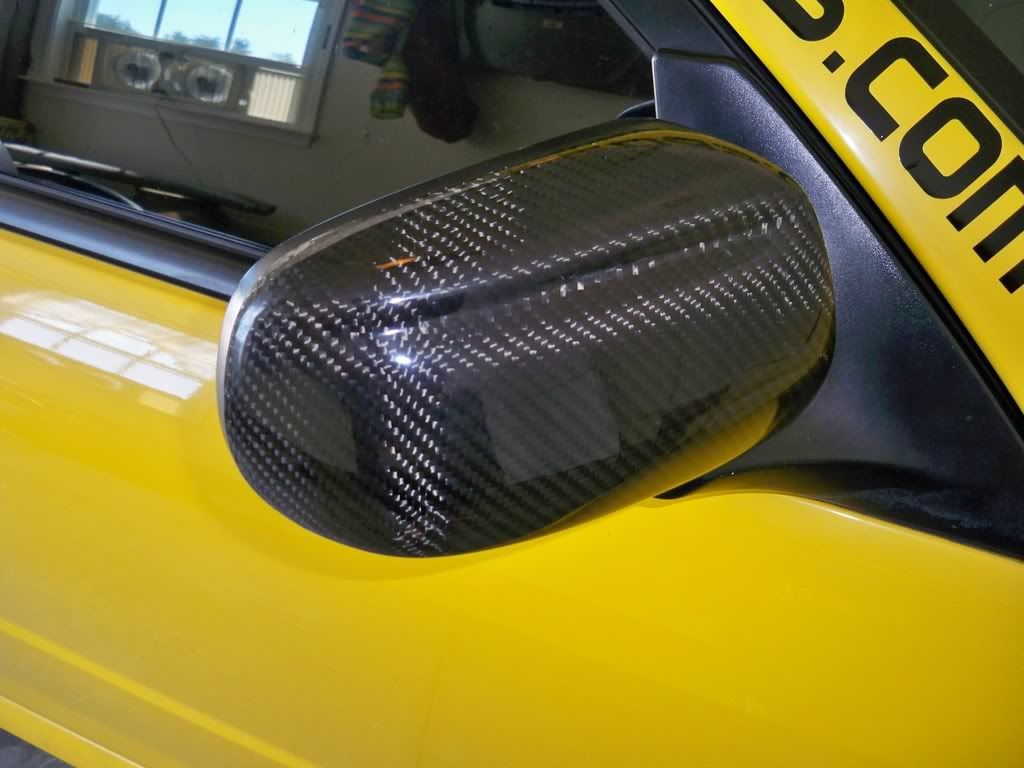 Picked up a DG Interior Package along with Momo E-Brake Handle/Boot...B&M Short Shifter/Corksport Bronzoil Bushings/Mazdaspeed Protege Shift Boot/Knob/Dave B Guage Rings..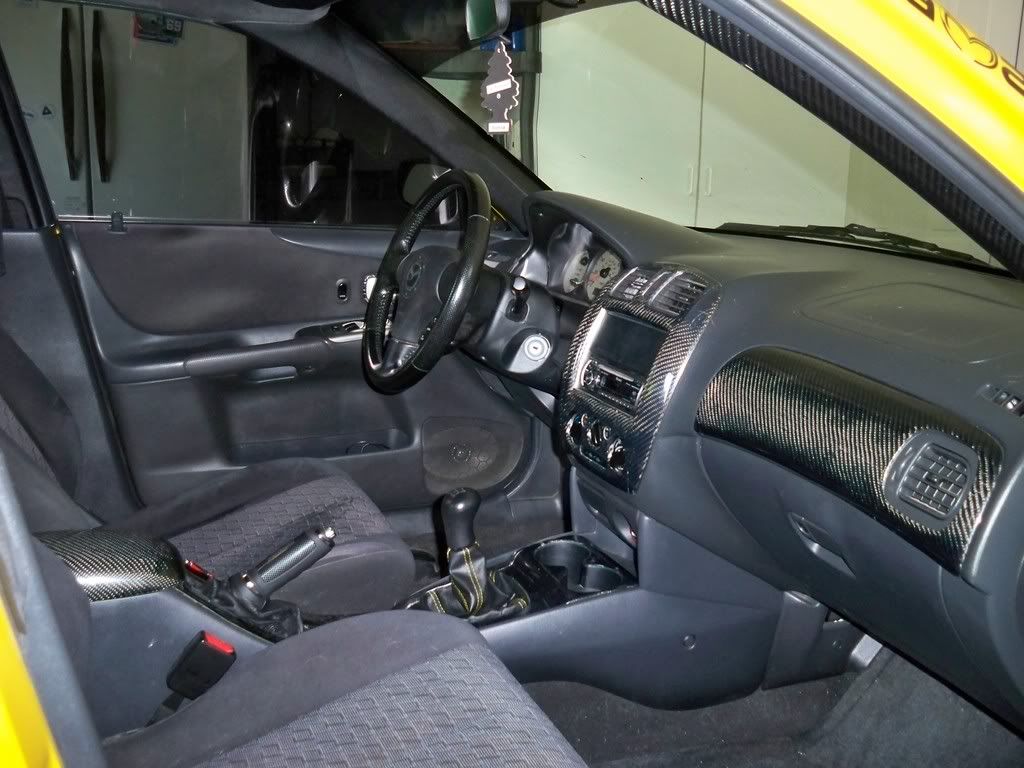 Got a new dog (that rides in the car) so decided quickly after I got it to sell most of the DG CF pieces...replaced with a set of Mazdaspeed3 cloth seats I picked up from Rogue...
Picked up a GT Spec trunck cage along with the ladder bar and lower tie bar...also got a MSP rear sway bar and Kenwood DDX7015 headunit...
Got a lead on a set of Speed3 leathers, so I decided to replace the cloth ones...not only that, but I got the rears with it as well...also decided that the Audio Setup was just to much bass for me and took it out...picked up a Double-Decker leather armrest and EDM Single DIN slot...got rid of the Kenwood as well and installed another Pioneer headunit and Pioneer GPS...
Dropped the car on Tein S-Techs and had the Mazda3 rims powdercoated black...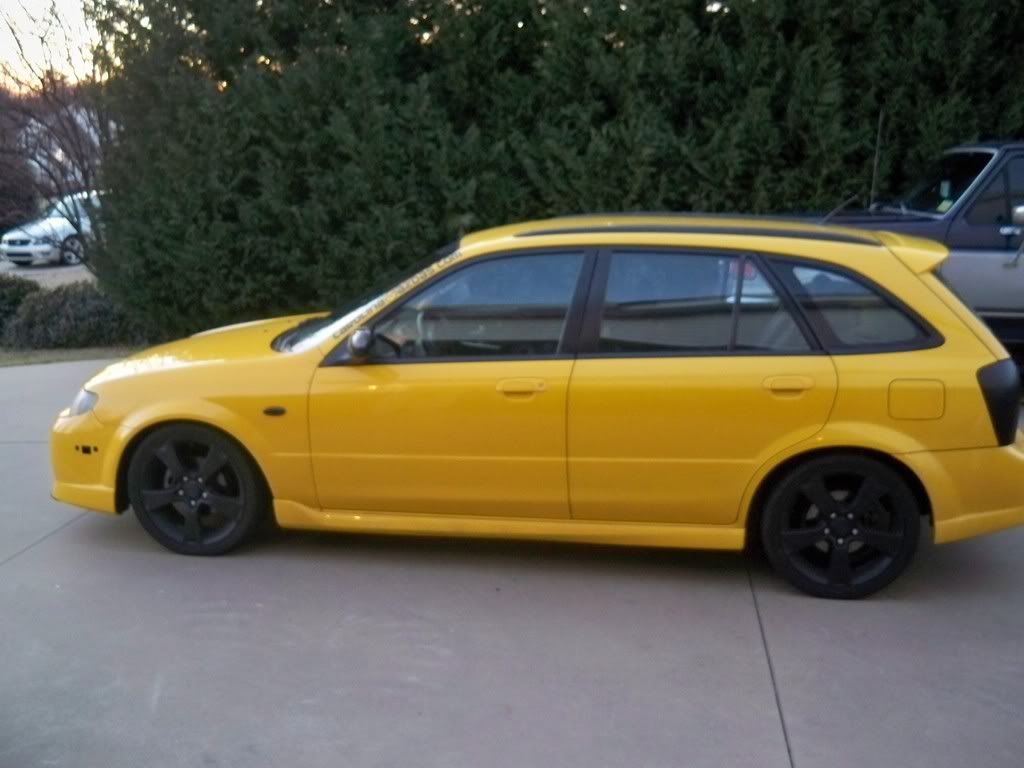 Wrecked the car and blew the motor...we won't get into the problems with the motor I got as a replacement though, but needless to say the car isn't running still...I did however get a Fidanza Flywheel, port/polish the intake manifold, remove butterflies, got a Spooled Up Racing Header, powdercoated Valve Cover, ARP head studs...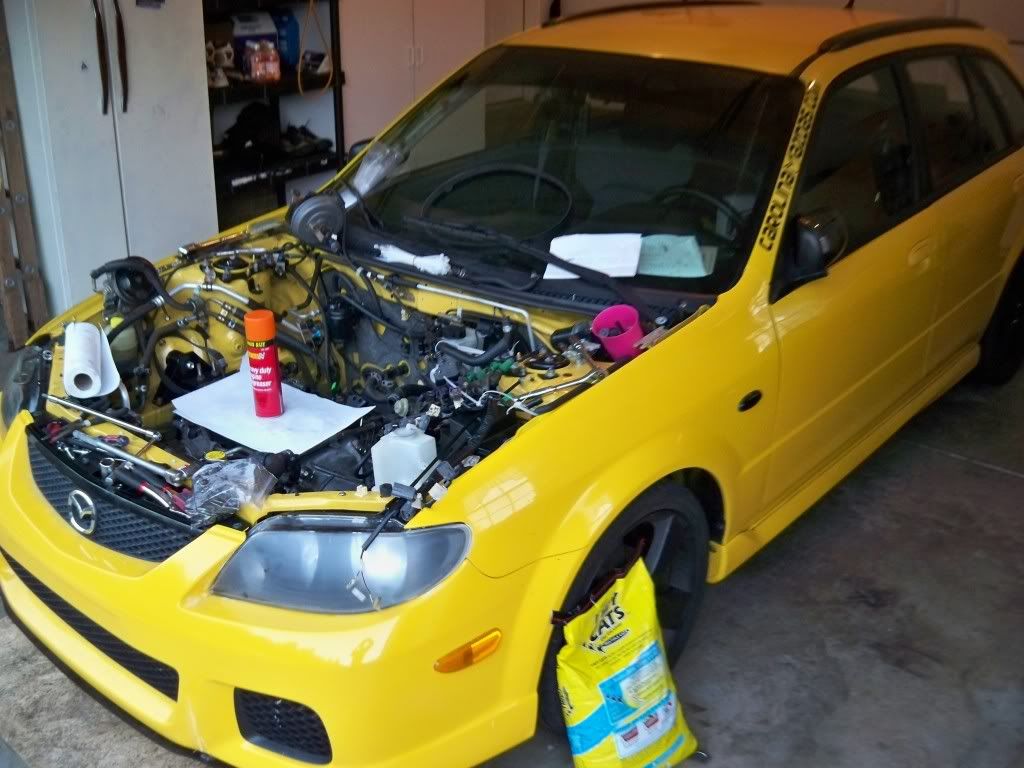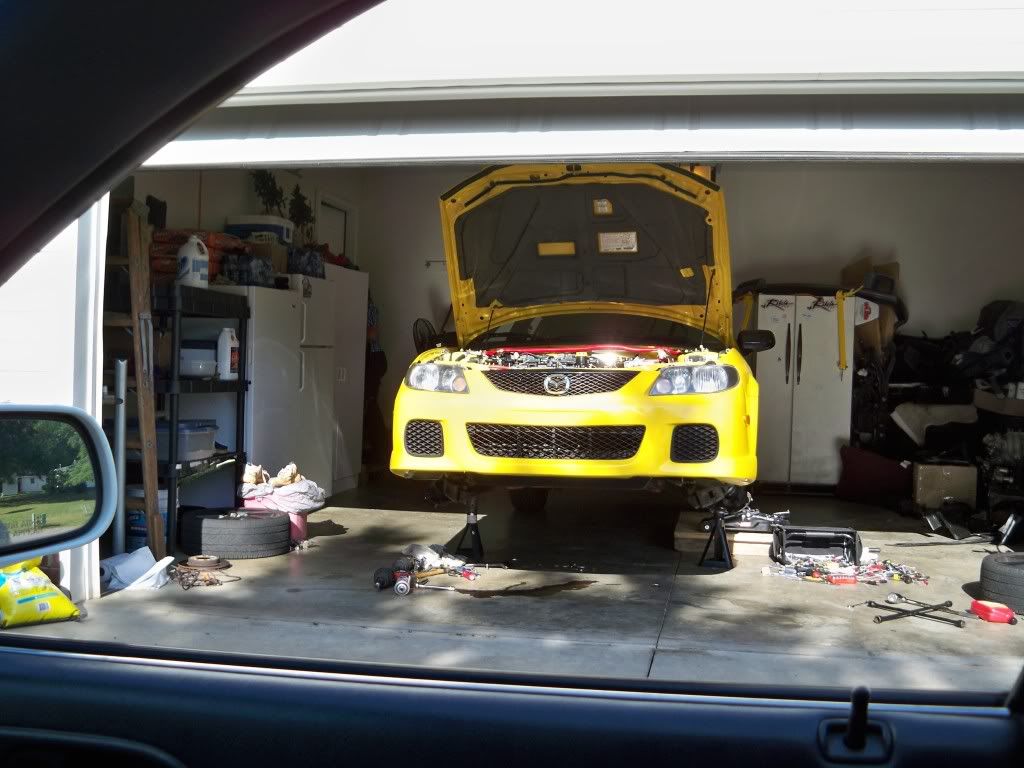 Decided that I needed to upgrade the brakes, so went with the MSP brake upgrade, Speed3 rims with 215/35/18 Pirelli P-Zero Neros, Speed3 exhaust, rear wiper delete, DG CF AutoEx replica grill...and installed the new system consisting of an Alpine PDX-5, DIYMA 12" sub, Focal 6v2s Components...also picked up a 3.5 MSP front lip (Not Installed Yet)...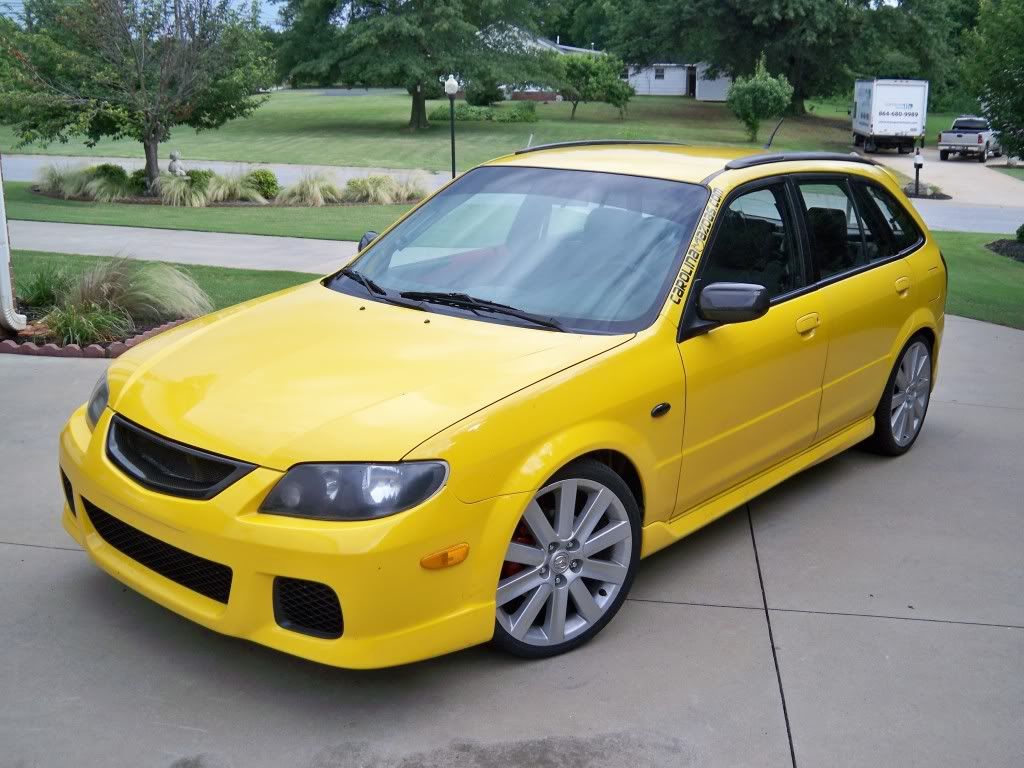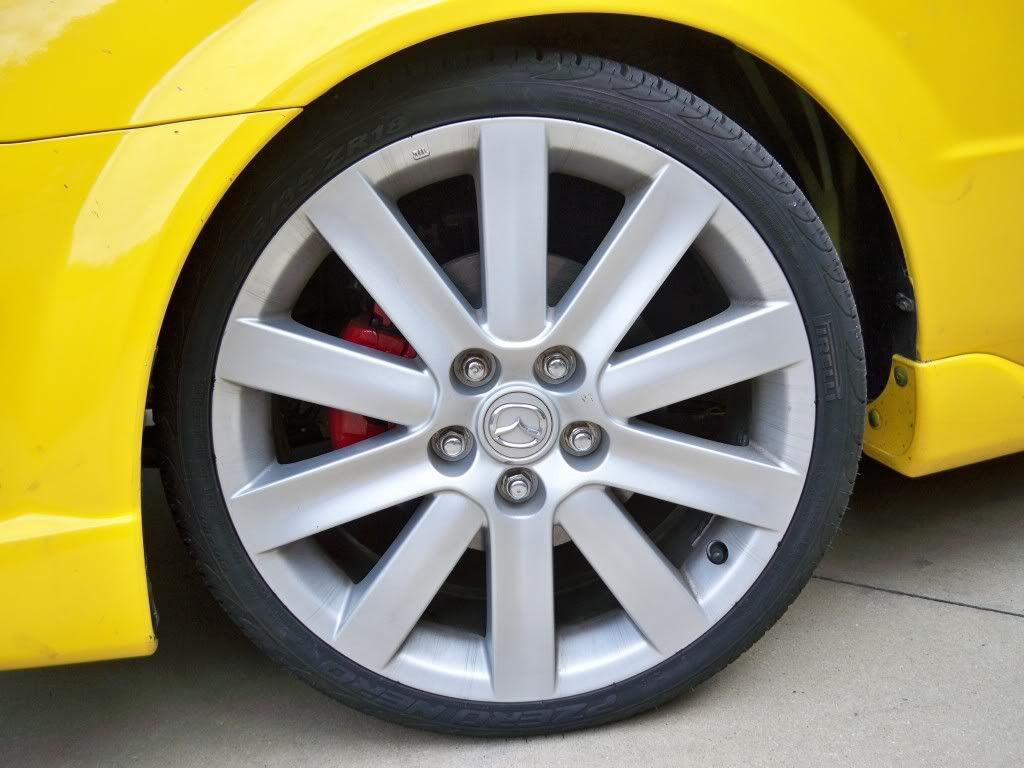 I did have the car running for like 4 days and made it to one day of EECMM before snapping a camshaft in half, so here are a few pics of how it sits right now...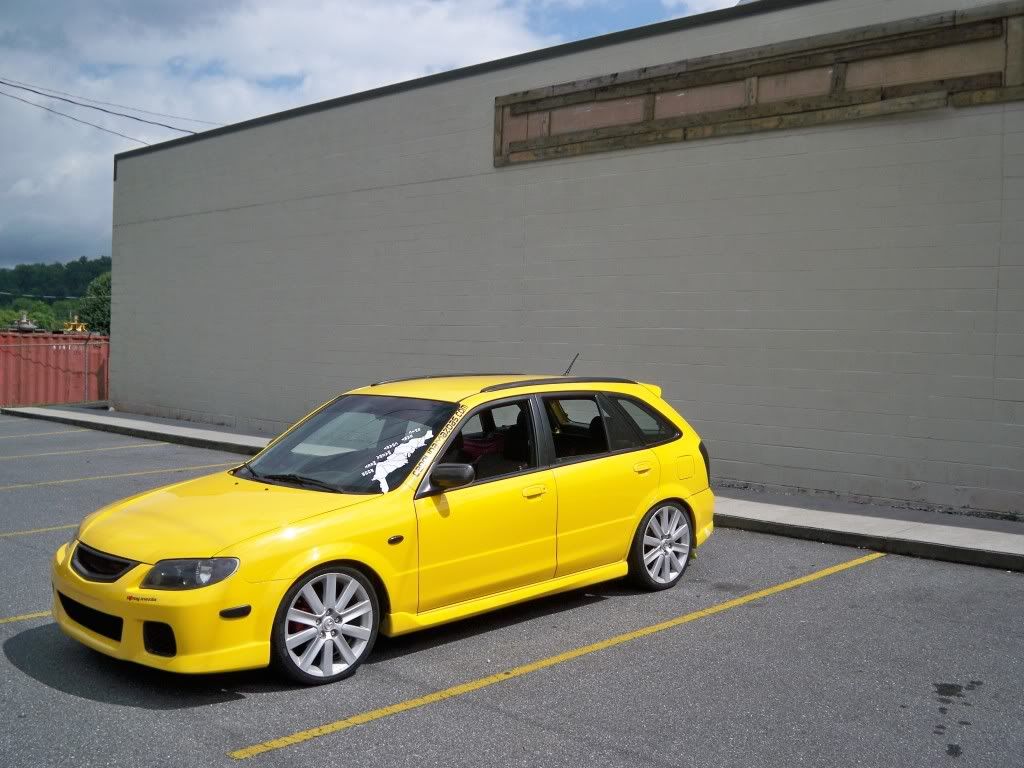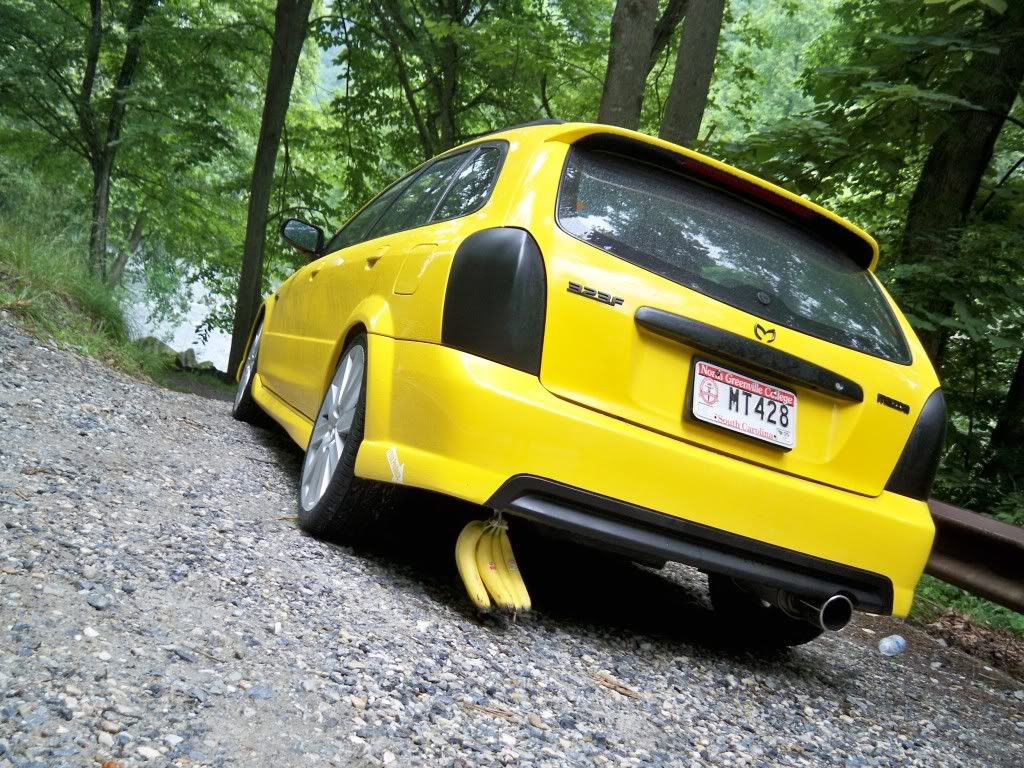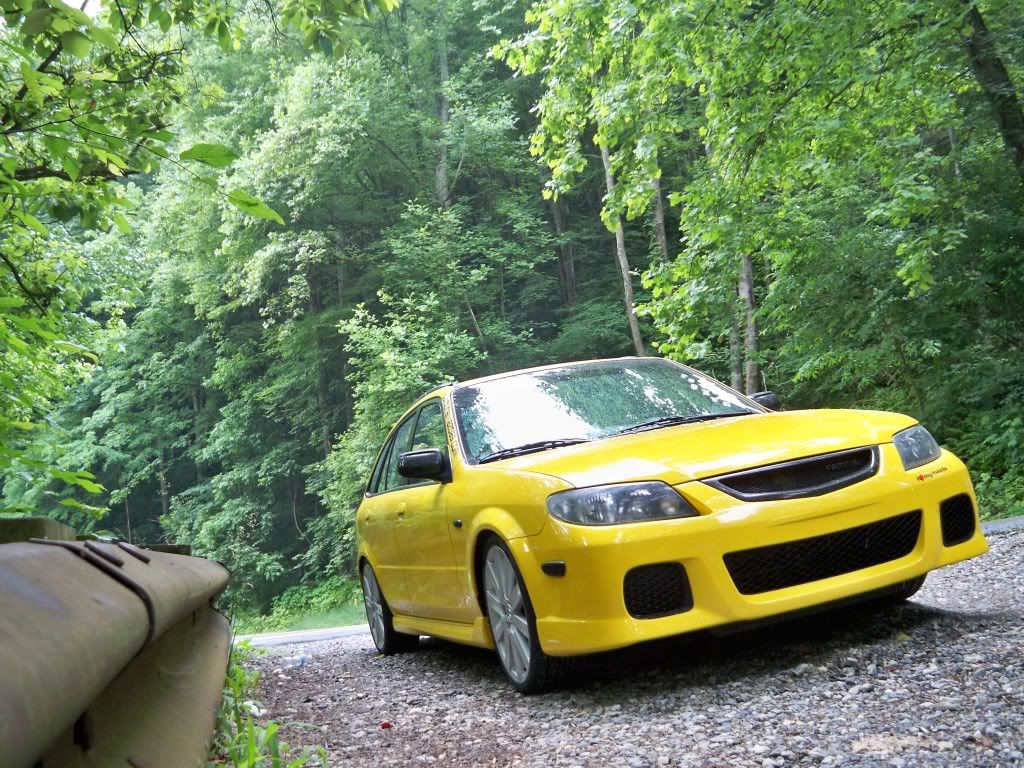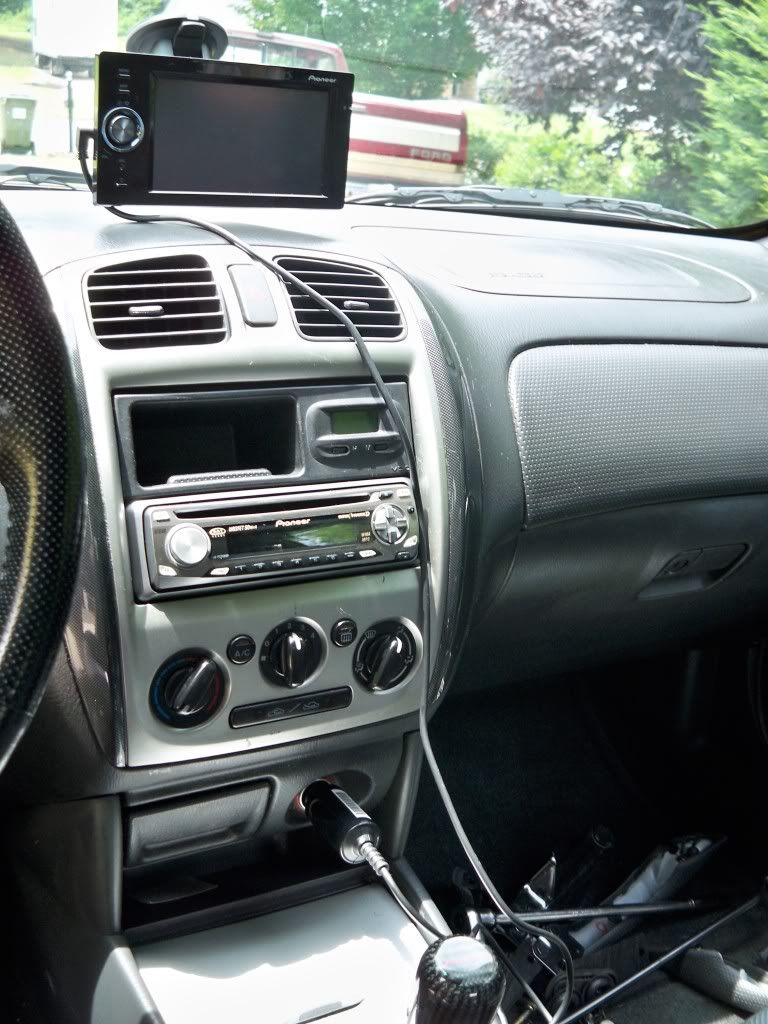 Thanks to all for looking and I will do my best to update this thread as everything goes along...if you have any questions/comments feel free to post...hope you guys like what I have done to the car...
__________________