NO PM's PLEASE EMAIL IS BEST WAY TO REACH ME phu714 at hotmail.com
Getting out of the game all parts are for pick up only in SOUTHERN CALIFORNIA, no meet ups or delivery's so please don't ask. Will ship at buyer expense.
ill start with the heart
MOTOR: will sell complete drop in to ek for 4200 or 3900 without headers. If no one wants it complete i will part it all out in a week on the 20th or 21st.
JDM 2000 ITR MOTOR with 60k miles Dyno tuned by import auto pros at 211.7 hp to the wheels @8450 144 lbs of torque
ITR LSD tranny with 4.7 final drive
OBD1 P72 ECU Chrom chipped and dyno tuned
Innovative EK billet mounts 60A
replaced post mount and t bracket with em1 mount and bracket
RMF style B SERIES NARROW HEADER
MOROSO B series replacement oil pan with baffle.
AEM short ram intake
Exedy lightened fly wheel
Exedy Clutch
OEM B series Axels
OEM Shift linkage
Head and Block completely stock never cracked open
OEM OBD2 dizzy
OEM OBD2 Alternator
ngk spark plug wires
NGK Iridium spark plugs
NEW ITR OEM Water pump installed
NEW ITR OEM Timing belt installed
NEW ITR OEM tensioner installed
JDM ITR MUFFLER AND B pipe $300 not included in full ek swap
98 GSR oil pan $OLD
Suspension / Chasis
Kyb Agx shocks with skunk2 sleaves will sell for 300 plus stock shocks and springs
NRG front strut bar
Comptech rear subframe reinforcement bar
CUSCO rear 24mm sway bar with blox endlinks and D brackets came off a JDM EK9 $220 obo
JDM LCA came off the same jdm EK9 $100 obo plus stock lca
FRONT and REAR steel Series strut bars $OLD
FRONT EX LCA and Front EX 22MM sway bar with endlinks, bushings, and D brackets $140 OBO
C pillar bar $20
Exterior parts:
Honda Access Visor for coupe or hatch used in good condition $100
Rare Valeo EDM SIR front headlights come with city lights socket and bulb might be adjustable not sure $300 obo
OEM style yellow square foglights with wiring and OEM fog light switch $60
Front 96-98 Honda Access hood bra and fender bra $80
Discontinued 96-98 JDM sir front lip with all hardware the sides a ripped but i was able to rig to sit nice a flush 6/10 condition $100
SPOON style rear carbon fiber duck bill 9/10 condition $120
ORIGINAL ENKEI JSPEED II WHEELS 15x7 +32 wrapped in 195/50/15 yokohama Sdrive 90% thread life. Trade for 14 or 15 inch steelies plus $700 obo
Interior:
EK cargo cover good condition $80
USDM ITR front and rear seats with EK brackets for front and rear 9/10 condition small rip in passenger headrest $650 plus ur stock seats
EX arm rest $65
MOMO 320 tuner Steering wheel with red stitching 2 months old $180
NRG EK hub $70
NRG quick tilt with lock and keys $180 also only 2 months old
Blox 490 Limited edition shift knob NEO CHROME very heavy knob only 2 months old $50
Rare EK SIR cluster reads MPH maybe EDM sir cluster approximately 220k miles $OLD
Replica Mugen Pedals $20
ALSO HAVE A d16y7 for sale 150k miles super healthy motor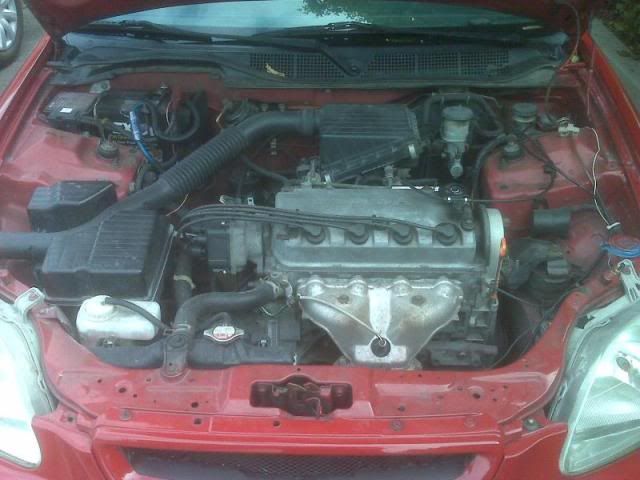 will take more pics asap