New Member
Registered VIP
going to paint my 17 inch rims that i will use to clear my big brakes turf green. The IKONs were new so just needed some wax remover to clean them up. Then came the white primer, light coats so it dries up faster, don't do heavy coats as it takes for ever to dry and runs all over the place.
The spray the color of your choice, in my case turf green and blaze orange.
Then 2-3 coats of clear and voila.
probably cheaper than plasti dip
primered white
talk about being irish and leprechauns
Since it is impossible to be painting wheels during the winter outside. I rigged up a small corner to spray the 17 inch mags green so might as well paint the 15 inch OEM wheels Blaze orange
There was no bends and had some minor curb rash which i sanded it down. The clear in some areas was flaking too so i wire brushed it and sanded it smooth before shooting the whole wheel with white primer.
gave the primer a day to dry and then the following day started to be spraying Blaze Orange
i wonder how blaze orange calipers will look
now if you got tires on your wheels, need to clean and prep your wheels, i used steel wool and some fine sandpaper to get it nice and smooth. then i had a roll of paper that i placed around the wheel to protect the tires from getting painted. Spray the primer in light coats. once dried can paint your color this time is flamingo red. clear it with 2-3 coats and let dry for a day or two.
before
primered
spraying dah pink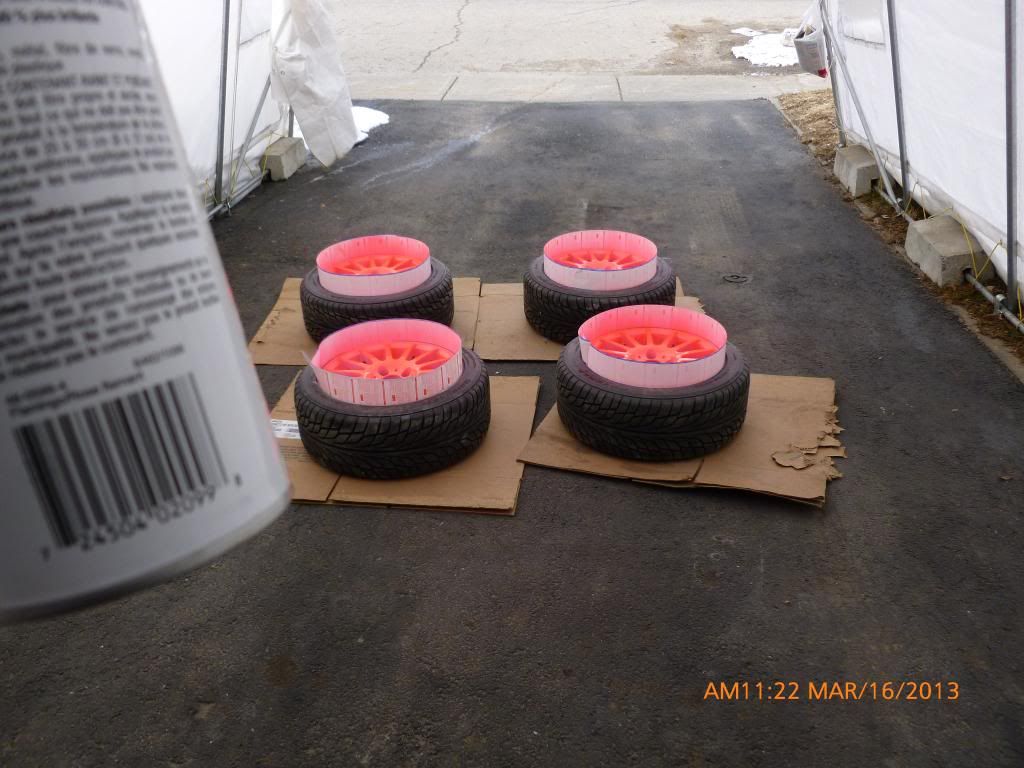 need to clear them