New Member
5+ Year Member
Sold Sold Sold Sold Sold!!!!!!!!!!!!!!!!!!!!!!!!!!
Located on Southside of Chicago, near Oak Lawn or Orland Park
1990 Honda Civic
Manual door locks and windows
No A/C
No power steering
B16A
OBD0
Dc Header with 2.5 piping, resonator, no cat, generic muffler
Aem Short Ram Intake
New radiator Oe full core
Slim fan
New Dizzy as well
Spc front camber kit
Omni rear camber kit
Walbro fuel pump
Dual face pioneer premier radio w/ remote - Deh-P840MP
Short Shifter
Momo hub with Grant leather wrapped steering wheel
Orginial guages did not have tach, i replaced them with OEm guages that do have tach, Vtec kicks in at 5,000 rpm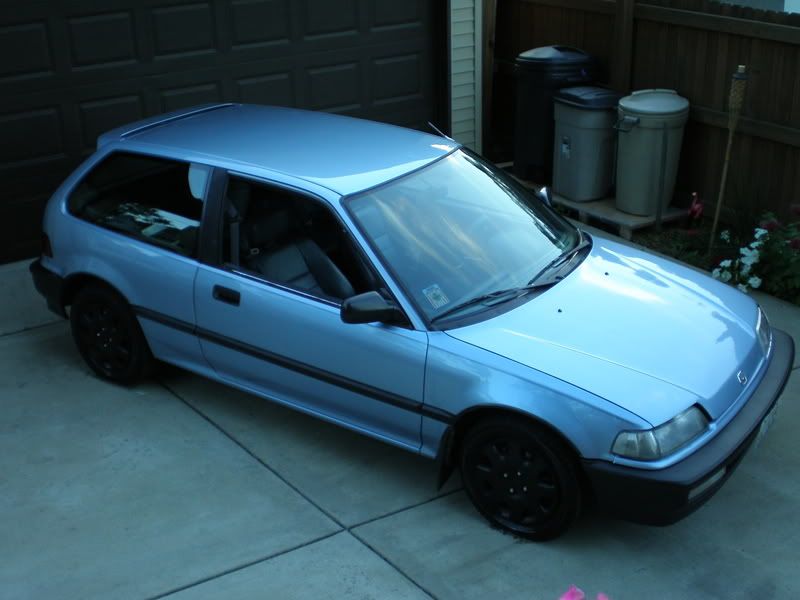 No Rear quarter panel rust
Buyers choice of rim's with tires
1) Steelies with hubcaps, new Blizzaks on the fronts and generic all season tires on the rear. Just bought these Blizzaks this past winter, so plenty of tread is left.
2) Integra Fat Five's with Falken Azenis
One pair of tires I bought last summer and only used them for the summer, while the other set is the older Falken Azenis which don't have to much tread left but will last if used in the rear. These rims were gold/ bronze i have sanded off the clear coat to paint black but haven't yet.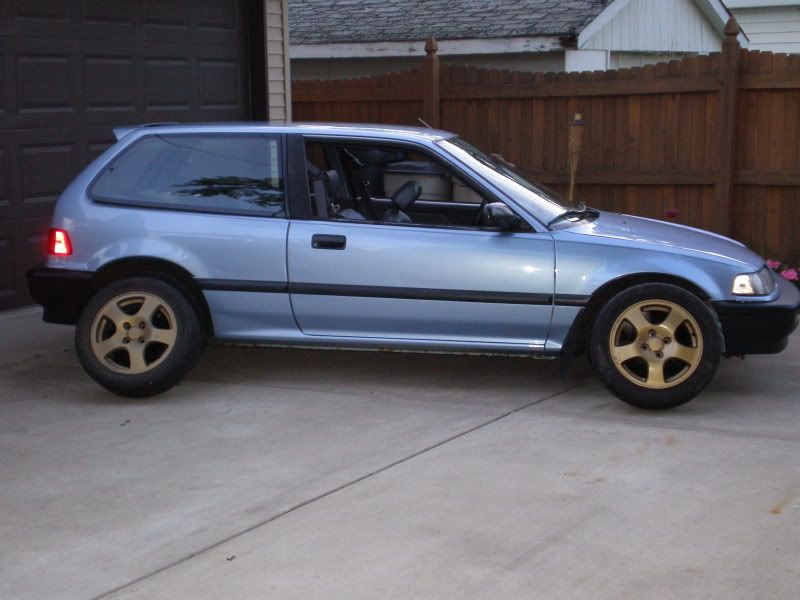 The bad:
Irratice idle, I brought it to One 6 Motorsports to have them fix it but they haven't. They said they set the idle to be between 550 and 850. It is inbetween there sometimes and other times it is between 500 and 200. The car will seem to almost die out but does not. Sometimes while you are driving under normal or heavy conditions it will bog down or misfire. I am not sure but when this i occurs i just let off the gas or wait a second and it returns to normal. I believe it is something electrical because i just purchased a new dizzy within the past year and have kept up with tune-up's and oil changes.
Ignition is acting up as well. Sometimes I try to start the car but it does not want to. So I just move the key around while it is in the ignition and then start the car. Just started to do this with in the month.
Torn driver seat
Cracked windshield
Black glove box, original one was busted
Leak in the rear on the driver side near the hatch. Also in on little area a few drops through the rear passenger window once and a while.
$2,600 o.b.o
e-mail;
tjbikerx@aol.com
or pm me with questions . . . . .Thanks