DIY: Shaving Core/Radiator Support
Shaving/Covering the unused holes on the core support
​
Applicable Years:
Although this was done on 6th gen(96-00) it can be done to other years as well
Difficulty:
3 of 5
Hours:
3 hours doing, 1 day to fully dry
Materials I used:
you don't have to use the same but these are the ones I chose.
(to quickly get to the DIY, I posted the pictures of the items I used on the bottom)
X Metals spray paint (red)
Metal Specks (red)
Body filler
40 grit sand paper
80 grit sand paper
220 grit sand paper
400 grit sand wet sand paper
*Automotive clearcoat(if desired...i didn't)
Brand new core support from Parts Channel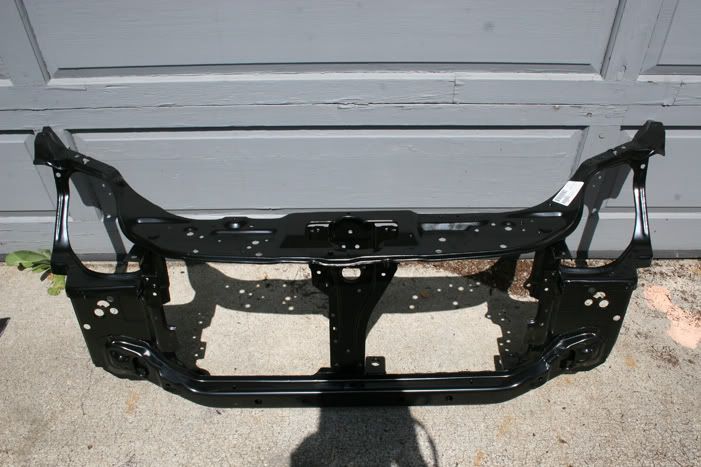 1. First I taped the bottom of each hole I was going to fill up so the Bondo could build off the tape and not fall through.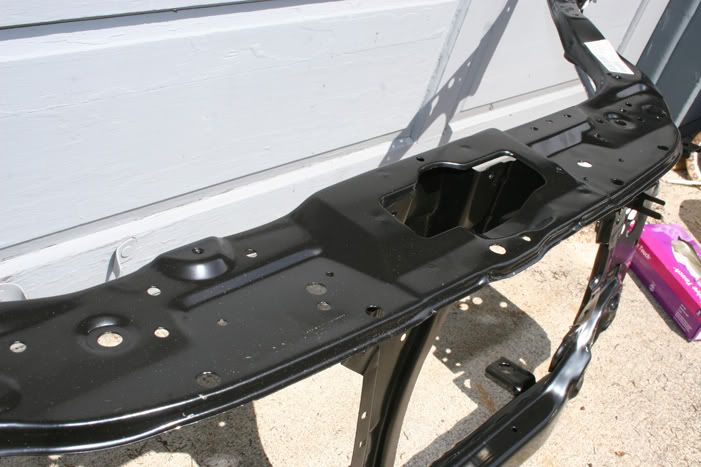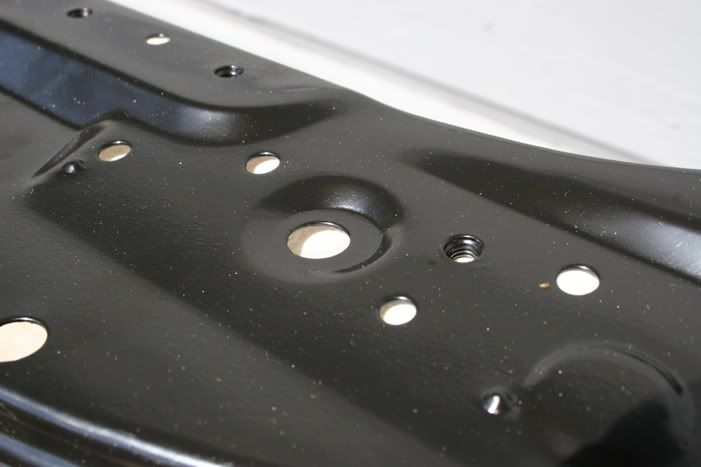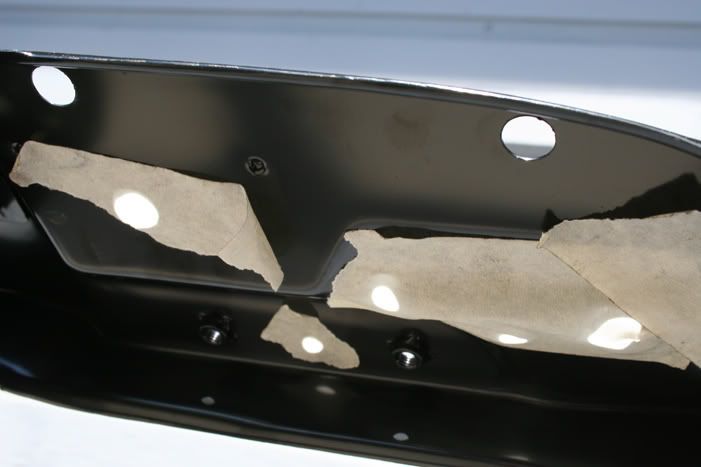 2. Then I applied the Bondo over each of the holes i was going to cover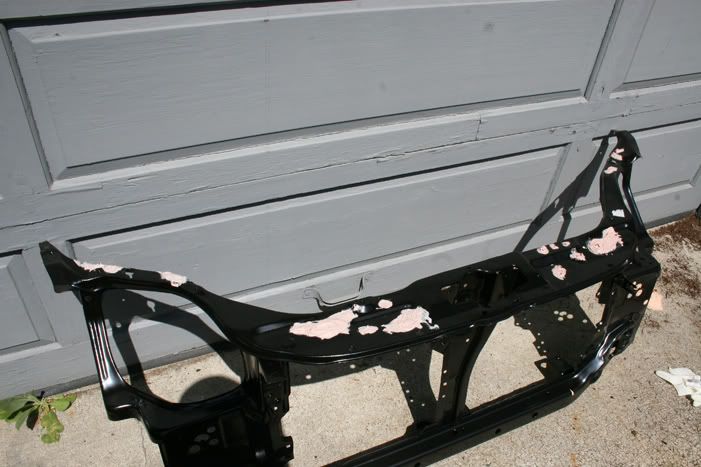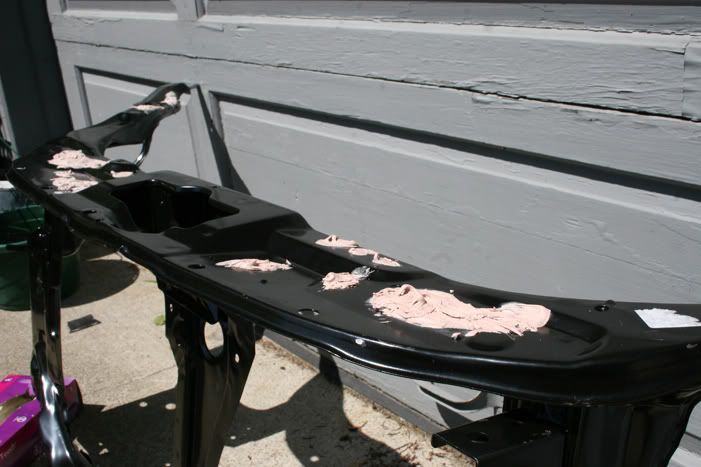 3. After allowing the Bondo to dry, I then sanded most of the Bondo with the 40 grit sand paper until it was just about smooth, then I switched to the 80 to flatten it out. After going through it with the 80 grit I went over the spots with 220 smooth it out a little bit. After you are satisfied that all the holes are nice, smooth, and covered (no little craters) then go over everything with the 400. The 400 grit is not needed but I said it because I did it, in case some of you wanted to do what I did.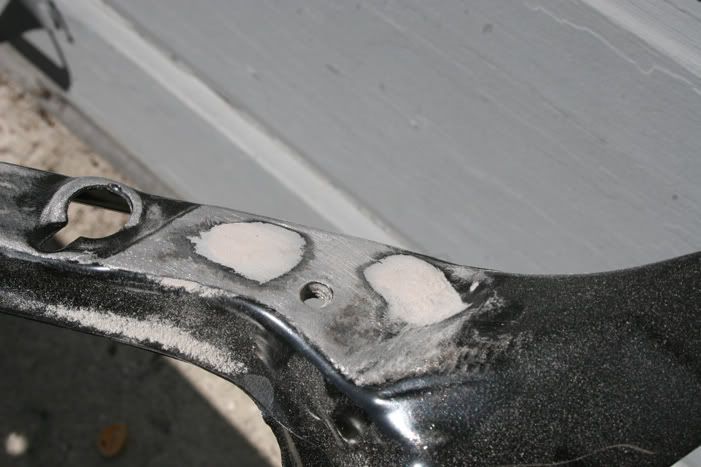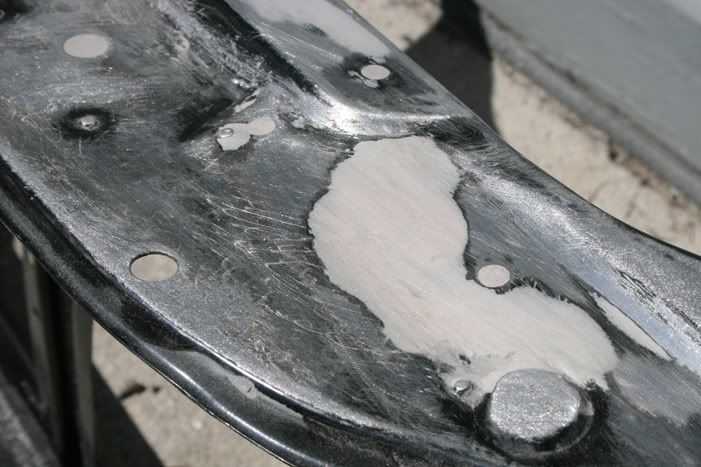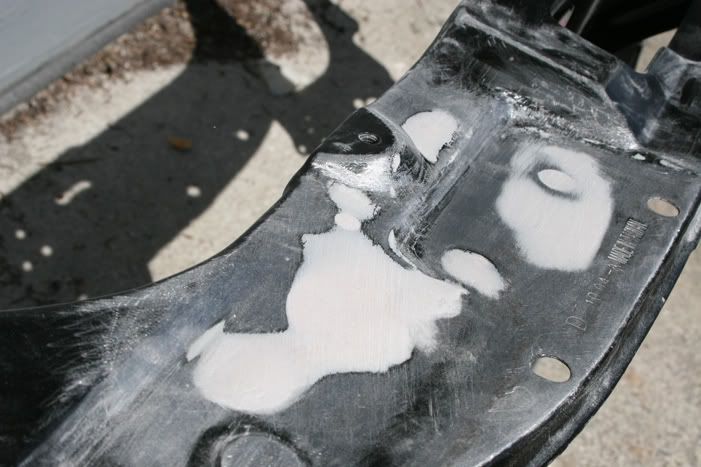 4. After I made sure no scratch marks were showing anymore, I primered the core support(where I was going to paint only).
Allowing the primer to dry, I then sprayed on the X-Metals Red Spray paint. I did not used the X-Metal ground coat converter because I just used the Red spray paint as a base coat and didn't want it to be anodized anyway.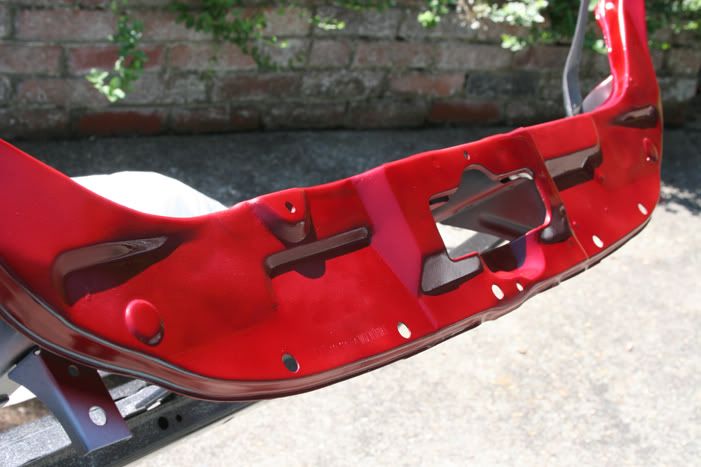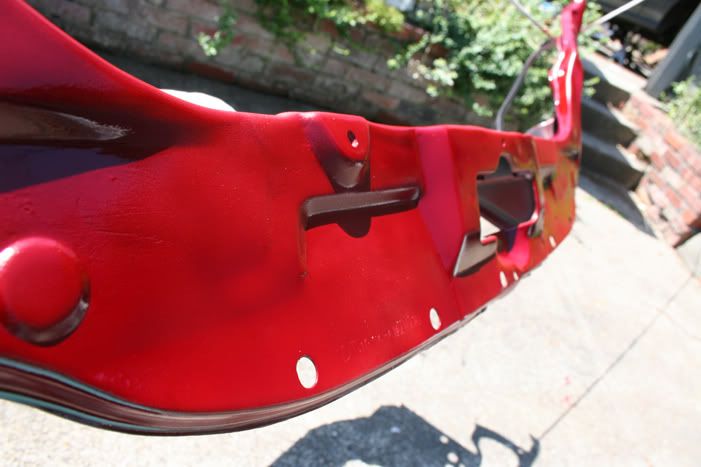 After about 3 coats of the X-Metals and allowing proper drying time, I then sprayed on the Metal Specks.
About 3-4 layers is good depending on how thick you lay your paint and how much you want it to sparkle. Don't spray too much or it'll start turning out dull and or drip.
First layer(you can see a little bit of the specks):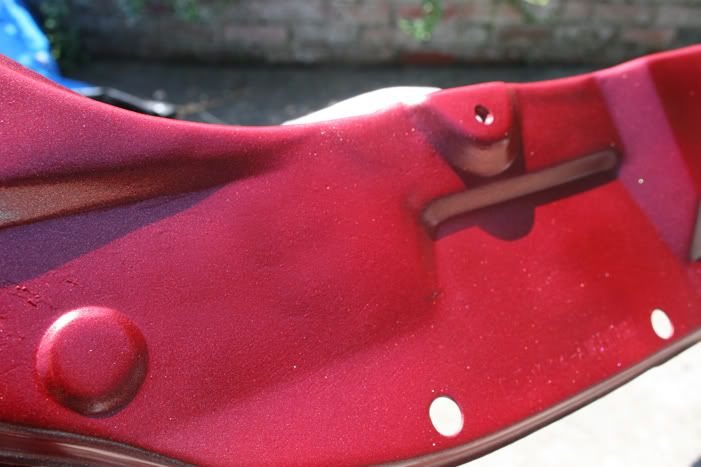 6. Second layer(laid it on heavier and more specks are now noticeable):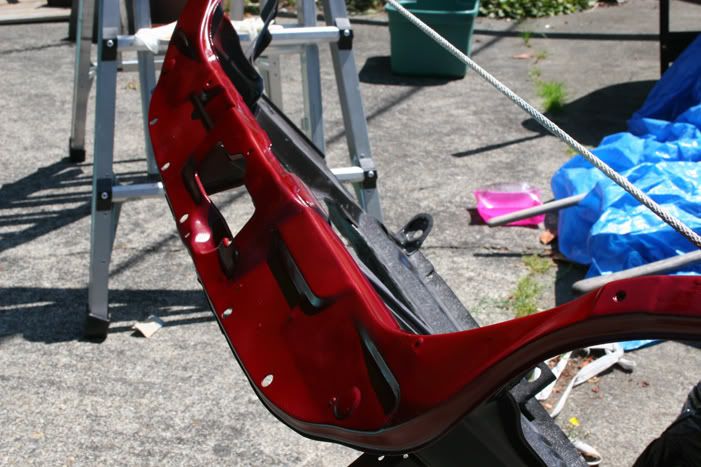 7. Third and final layer(finished it with another heavy layer making sure there were no drips):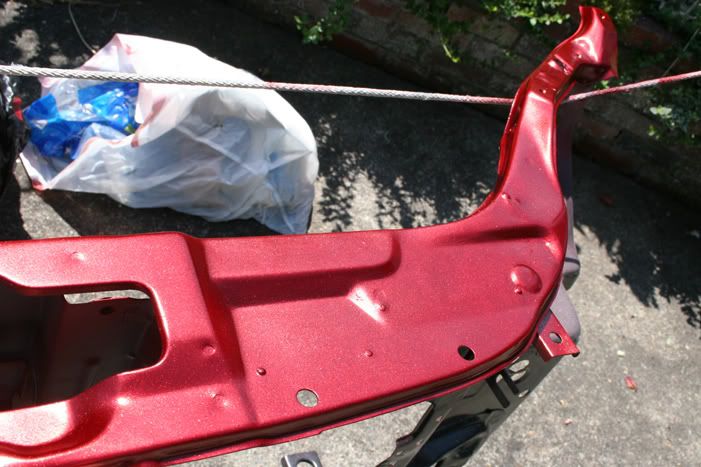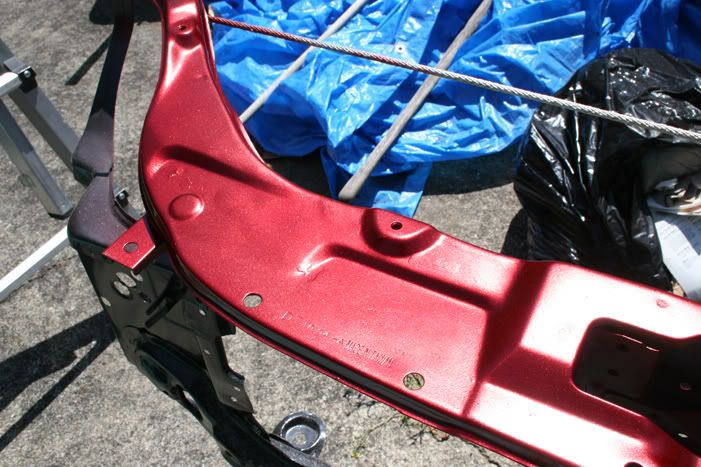 *Apply Clearcoat if desired.
Allow about a day for the paint to dry. Take off the tape on the bottom and install the core support.
Thanks for reading and hope this could help some of you. I did the same thing with shaving my engine bay and it works as well so you can attempt the same steps to the engine bay if you dare. Please do this how to at your own risk.
**
If anyone has any doubt on the durability of it...i never had to do any re-bondoing to the core support at all nor did i have to repaint anything. There were no cracks or lifting of the bondo either. This picture was taken about a year after.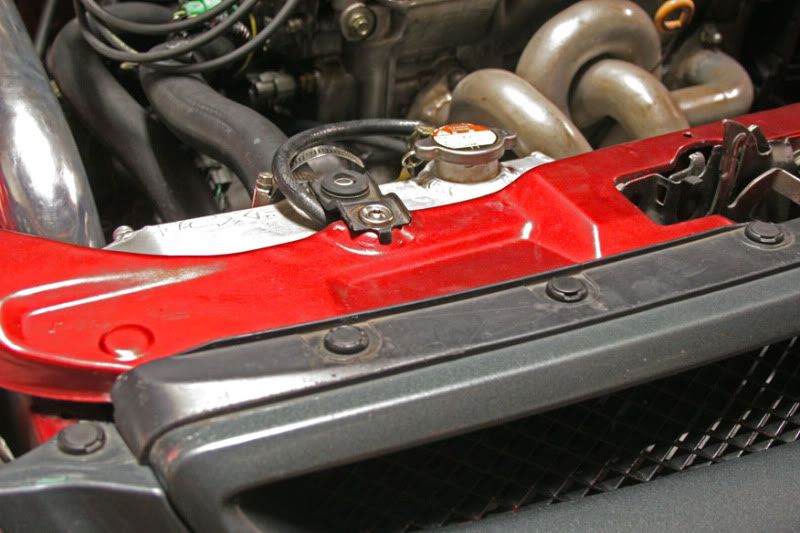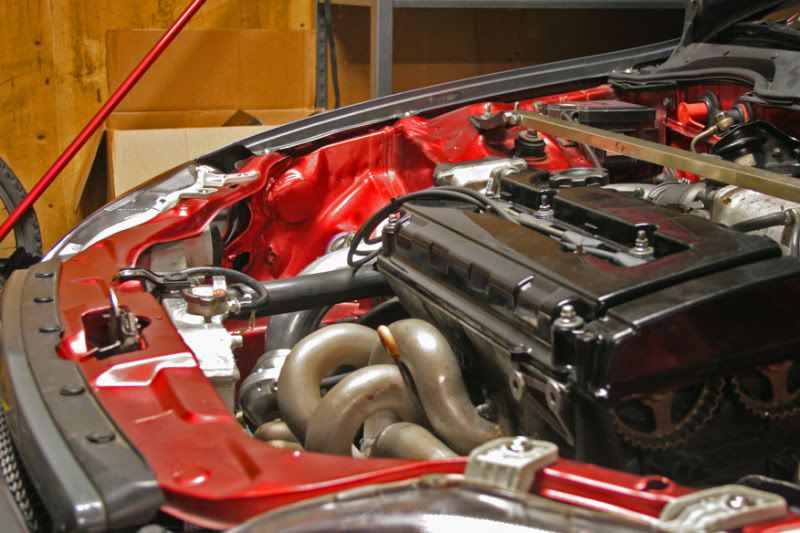 Shaved bay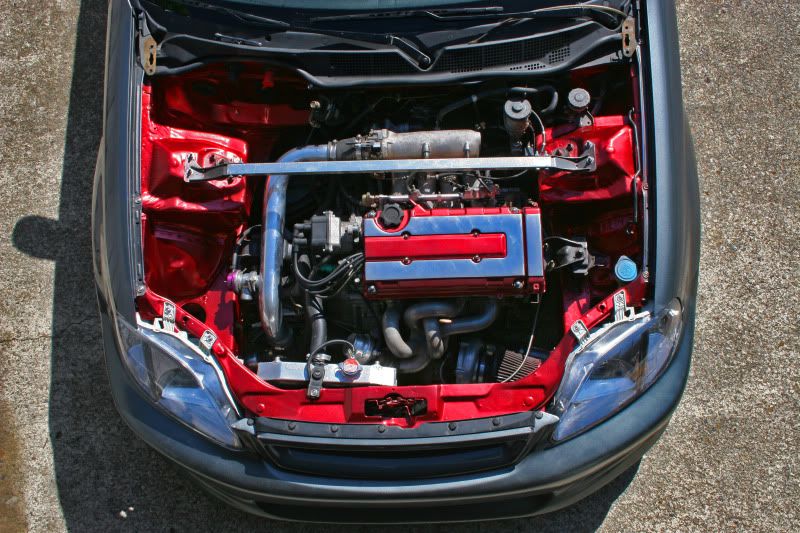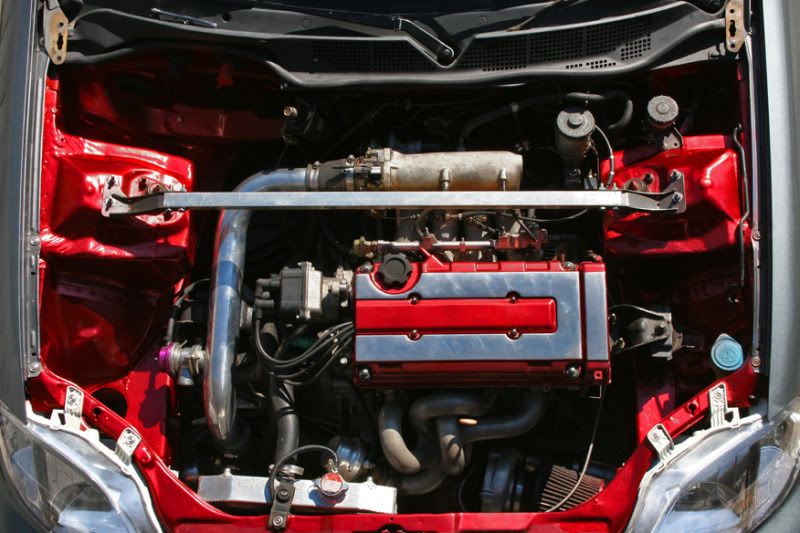 Review:

This DIY is time consuming and takes patience and you might even have to repaint depending on your skill, but its worth it in the end. Sure you can pay someone thousands of dollars to weld and shave down the bay for you for a professional appearance, but not everyone can afford that..I sure couldn't..so I found a way to do it myself with the skills I had. Hope this helps some of you and if anyone has any questions pm me and I'll help you in anyway I can.
Last edited: