D-Series Master
Registered VIP
Registered OG
5+ Year Member
10+ Year Member
For some odd reason, I break off alot of lug studs. Ive tried using anti-sieze on the threads, and for some reason they still sieze up. So, while changing one on the rear drum of my Civic, I decided to do a write up. This is pretty much standard for ANY car with rear hubs. Work at your own risk.
I take no responsibility for anything you break, or if you injure yourself!!
Time Needed:
30 Minutes to an hour (depending on how fast you work, and if you get any stuck bolts).
Materials Needed:
Lug Studs (How ever many you need. If ones broken, you need one, ect)
Lug Nuts (Agian, the amount will depend on how many studs you are replacing)
Brake Cleaner (Optional)
Mechanics Gloves (Optional)
Tools Needed:
Lug Wrench
Hammer/Rubber Mallet
Jack Stand & Jack
Small Flathead Screwdriver or Chisel
32mm socket and ratchet
Heres what we got starting off. A broken lug stud is something you should replace ASAP. You'll be OK driving on it for abit, but if you HAVE to drive on it, take it easy.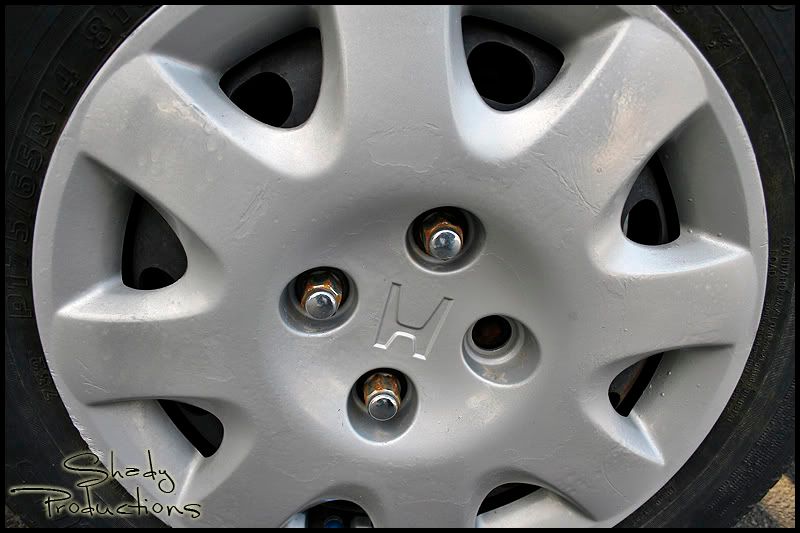 Ok, to get started, jack up the rear of the car. If your car is auto, make sure its in park. If its 5spd, make sure your in reverse. Once the car is jacked up, secure it with a jackstand. NEVER work on a car with just a jack holding it up. Loosen the lug nuts, and pull the tire off. You'll be looking at something like this: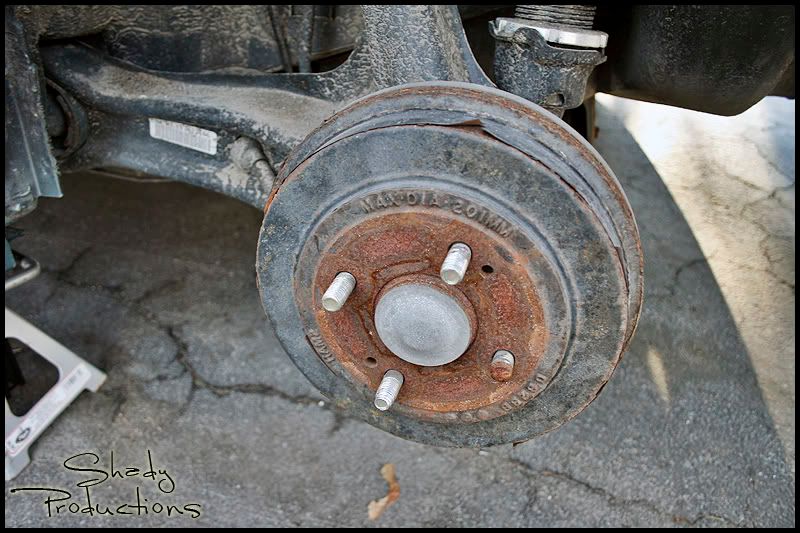 Next, you need to pull the hub cover off. Theres a few ways to do this. If you live in a non-salted area, your most likely going to need to do method one.
Method One:
Take a screw driver, and pry off the cover. You will see where the cover meets the base of the hub. Be careful, and pry it off. If it dosent budge, move onto Method Two.
Method Two:
Take two 8mm threded bolts, and thred them into the two holes in the face of the hub. Keep going, alternating between the two. Eventually, the hub will press itself off the base.
If you like, it would be a good time to clean up your hub cover and paint it if desired.
Once the cover is off, you'll be looking at this: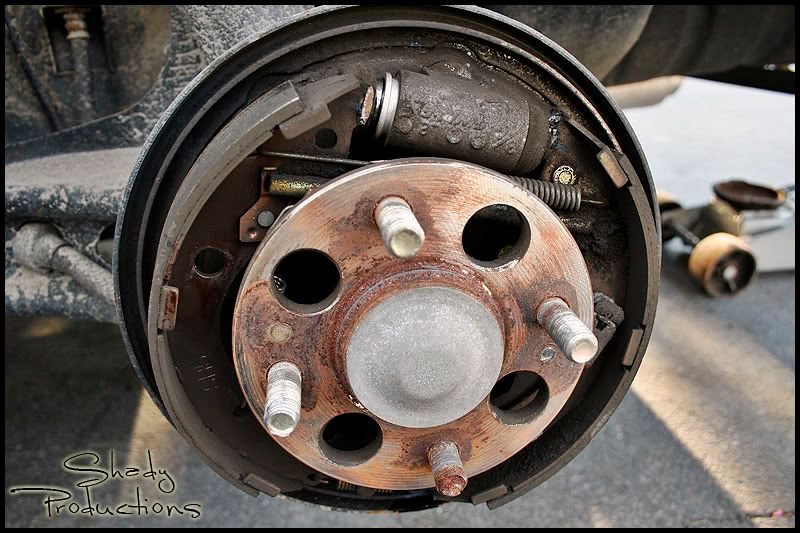 Next, your going to pop that little silver cover off. Wedge your screw driver between the cover and the base, and take your hammer and pop the cover off. It make take abit, and if you have to mark/dent up the cover, go ahead.
Once you get the cover off, you'll find a big nut behind it. This holds the spindle onto the hub.
You'll notice that part of the nut is pinched into a slot on the hub. Take either a punch or a pointed tool, and pop it out with a hammer. That way you'll be able to remove that nut.
Take a 32mm socket, and remove the nut. Its on there with alot of force, so dont be afraid to put some force behind you to loosen it. Once the nut is removed, slide the spindle off the hub. This is what you should be holding in your hand.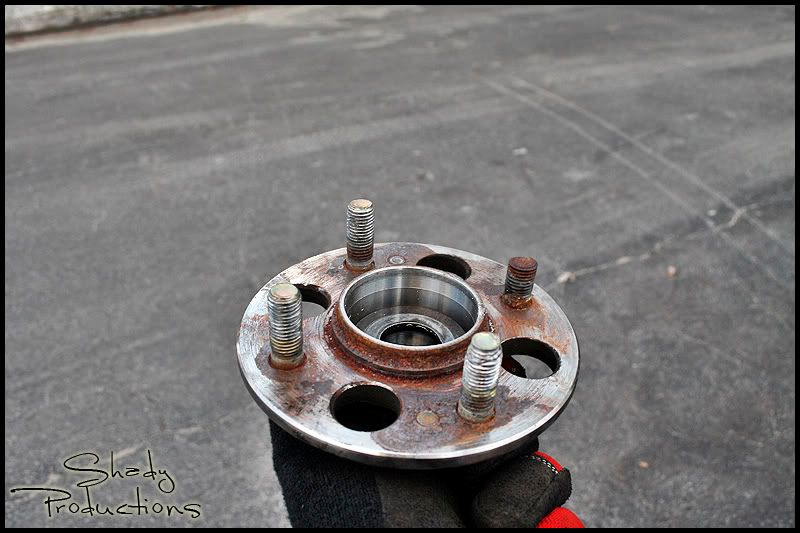 Nows a good time to take your brake cleaner, and clean out the hub base. Its not necessary, but it never hurts. Now, you need to remove your broken stud(s). Put it upside down on a soft surface (your tire works good) so you dont ruin the bearing, and hammer out your broken stud(s). Take your new stud(s), and hammer them in from behind. Agian, using your tire is a good way to support the spindle without destroying the bearing inside it.
New stud:
Once your new stud(s) are in, put the spindle back onto the hub, but make you put the retainer washer is in place on the outter side of the spindle. (Sorry, no pics of this retainer).
Thread the 32mm nut back into place, and make sure to tighten it really good. What I did, was stand on the ractchet. Thats almost 230lbs of torque.
Take your punch/pointed tool, and hammer back in the nut into the notch. It dosent matter if its not in the original location, as long as you notch it into the nut.
Take your hub cover, and put it back onto the base. Once I got it into place, I took the hammer and lightly tapped it into place. You should be looking at something like this:
Put your tire back on, put your lugnuts on tight, and lower your car. Once the car is lowered, double check to makre sure all your lugs are tight. And boom, your done!!