New Member
5+ Year Member
I wrote this in response to a question about how I did my headliner and I thought it would be helpful to others in the future. It really isn't hard, I've done it twice because I used a cloth instead of a real headliner the first time with the wrong kind of glue and it looked bad. The first time it took me an hour or so to get the headliner out the second time about 10 minutes, hopefully if you follow these instructions you won't have too much trouble.
I wouldn't use just new cloth material (get real heaadliner material), it's too easy to let the glue bleed through without foam backing and the old foam probably needs to be replaced anyway. Get a headliner with foam backing to replace your worn/sagging one. That being said, it is possible to just "recloth" your headliner if you are very careful when pulling the old one and gluing. It would really help if the cloth is thick and/or has some sort of impermeable backing.
I found my headliner material (with foam backing) on ebay for under $20 shipped.
Get 3 or 4 cans of 3m headliner adhesive, can be found at walmart.
1. Unscrew all parts attached to the headliner, pull the two headliner retainer tabs (above rear seats). The grab handles, rear view mirror, and sunvisors are secured with phillips head screws. The mirror mount has a cover on it, just pop it off. The dome light cover pops off and under that you will find a phillips screw, unscrew it and unplug the wires from the light. For the sun visor clips, you push up and twist to get them out.
2. Pull some of the plastic support/trim pillars out that hold the headliner up, these are attached with metal tabs so you can push them back in place when you reinstall.
3, Remove the headliner from car.
4. Remove headliner and foam from board. It's ok if some of the paper like layers of the board come off, just make sure the headliner board doesn't have any loose hanging pieces.
5. Spray back of foam material and headliner board with 3m headliner adhesive. You'll want to get good coverage so a full 3 or 4 cans will be totally empty when you've got enough on there. Spray it on evenly, doesn't have to be perfect just well covered.
6. Fit headliner on board and make sure all areas are flush with the board, spend extra time where the sunvisors go, that's the hardest part to get it to follow the contours without getting bubbles. Continue to rub the headliner all over to make sure you get proper adhesion.
7. Cut the headliner around the edges and leave a bout 4 inchs of overhang on all sides. You'll want to carefully (without getting the glue on the front of the headliner) spray the edges and glue them to the back of the board.
8. Carefully cut your holes for all handles etc. An exacto knife would be perfect for this but I used scissors.
9. Reverse first 3 steps.
Insulation above headliner, (reflectix), this is not necessary but it's for noise and heat reduction:
Headliner covered and drying: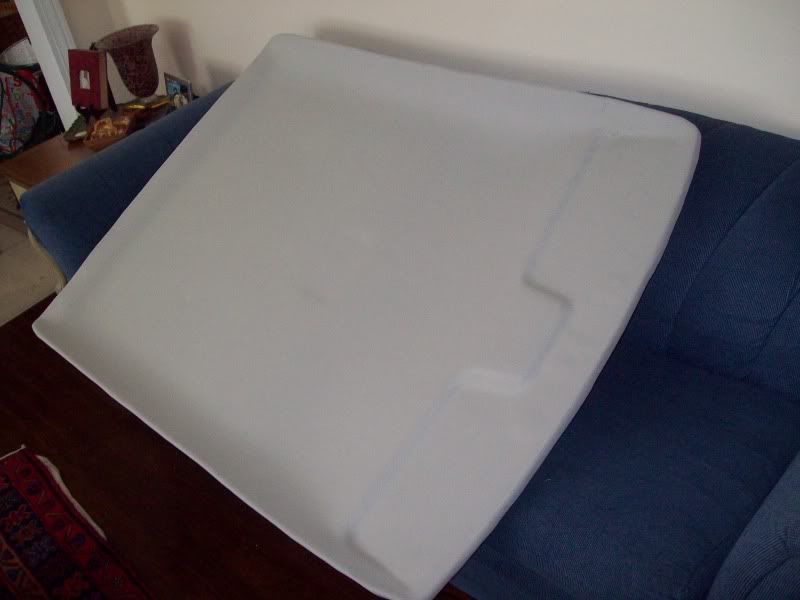 Installed: