Evil Monkey FTW
Registered VIP
5+ Year Member
Ok guys this is what happened. I came to live in PA and my grandparents offered me to be on their cell bill. Wtf not ya know? So we went and put an additional line to the family plan.
Yet s**t occured before i move up here last year and my grandpa mailed me his cell so i could use before i moved. Thus all my friends got his cell #.
So when we put me on the contract obviously I got a new number. Yet didnt want it. I wanted the old grandpa's # that i told to my friends. So at that time they switch numbers I got the new phone with my old grandpa's #. And he got to keep his current phone when i gave it back to him and got a new number.(he rarely if ever turns it on so wtev)
I have LG VX8300 its ok i like it but want something better. My grandpa has a 4-5 year old phone and isn't eligible for a upgrade becuase they treat his cell as a new cell on the contract..he needs to wait like 2 years or what ever the time limit is to upgrade. Mine i can upgrade.
Yet i really don't want to extend the contract 2 years if i don't have to.
What i want outa a phone:
*Full keyboard
*Can hook it up to a computer to put my music onto it to listen to and make my ringtone
*txting
*calling
*games/tv or other bullshit i can get without a data plan
*camera
Anyways my price limit is 150$ shipped
Now I was looking at the Blackberry Curve Nice smartphone yet id need to pay 140-150 or what ever for it f**k that. Plus when I went in today they said if i buy it from them I HAVE TO GET A DATA PLAN WITH ANY BLACKBERRY
f**k paying 25$. I don't want to pay 25$ and I dont want to make my grandparents pay it..f**k that I can live without internet for a minute on my phone.
So i found that I can get on ebay. The Motorola Q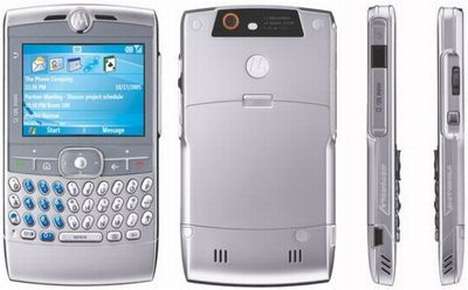 used or new for like lets say 100-130$
Ive heard its a decent phone. It has Windows Mobile 5 which I heard is buggy but decent for a Windows Mobile Operating system.
I can put an enumerator on it and play super nintendo games or sega games, txt, call people, I think you can watch TV on it but dunno the charge, etc...I think its pretty sweet.
Id get that phone go on the verizon website and basically do a swap. Activate the Motorola Q with my current number. Then my current phone the LG vx8300 will be a deactivated phone. Do a phone swap for my grandpa so he has something a little more up to date lets say then his POS 5 year old phone that he never upgraded before I came into the picture.
Anyways I went into Verizon today talked about phones. I had some coupon for the blackberry for 99$ but that coupon happened to be for the primary number on the contract so never mind that. Then since i couldnt get what i wanted for 99$ lol and they told me "all blackberrys that are purchased you need to get the data plan no if,ands or buts."
So i told them about the Moto Q. They were like cool. If you can do that then do that. Then they said well if you get txt messges or pic messages you will be charged (certain fraction) outa a penny for every txt. Thats BULLSHIT I have unlimited txting..so wtf. I think its just that they wanted me to buy s**t from the verizon store in that case be forced to get the data plan for a smart phone so they came up with some BULLSHIT.
just doesnt make sense. I have a plan on my contract for txting. Meaning the sending of messages. How are they gonna charge me for data for txting when im already paying for txting. Plus the charge for data is a fraction of pennies. just sounds like a bunch of BULLSHIT
I just wanted to hear what you guys thought of that. Is it true? WTF would it be true? Find out wtf you thought about the Moto Q. Or find out what phones on the verizon network that fit my specs above would better suit me?

No im not gonna terminate my verizon service and get a phone thats provided by another carrier. Recommend that and just end your life now. lol